LONGEVITY

HOT

SPOTS - Highest Life Expectancy In The World?
Only five official Blue Zones exist in the entire world. They are located in regions of different countries where people commonly live active lives past the age of 100. It took several years of research for scientists and demographers to find them and even longer to classify them. Each longevity "hot-spot" required intense study to determine the healthy traits and life practices they had in common that caused them to lead, healthier and happier lives. A blue zone is considered to be a "longevity oasis" and the people who live there are believed to have the longest life expectancies on earth.
The longest living women were found in Okinawa, Japan. Another blue zone was discovered in the mountains of Sardinia, Italy where even men reach the age of 100 at an amazing rate, another was discovered on the Nicoya Peninsula of Costa Rica in 2007. Only one of the blue zones is located in the United States. It was found when researchers, who were studying a group of Seventh-day Adventists in Loma Linda, California, discovered they suffered from a fraction of the diseases that commonly kill people in other parts of the United States and throughout the developed world. The final blue zone was found on an expedition to the island of Ikaria, Greece where they have 50% lower rates of heart disease, 20% less cancer, and almost zero dementia.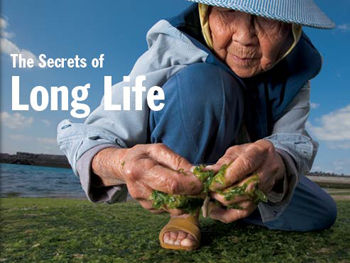 What's their secret formula for adding another 10 healthy years? Funded in part by the U.S. National Institute on Aging, scientists focused on these longevity hot spots to answer that question and found that while it helps to have good genes, that's less than 30% of the equation. If you adopt the right lifestyle, they concluded the other 70% can be up to us. "The secret of good health is to move," says 88-year-old Hoei Tabaru, who keeps in shape spearing octopus from the sea, picking vegetables in his garden and by biking through his village on the island of Okinawa. Tabaru, who has never driven a car, hopes modern technology will not transform island life. "The world is too easy today," he says, "at least for an old man like me." Other traits the people living in the blue zones have in common include, less stress and more socializing, strong emphasis on family, a fresh natural plant based diet (eat lots of beans), very little red meat and they exercise daily. Living their lives with a sense of purpose was a big factor. It insures they look forward to getting up in the morning.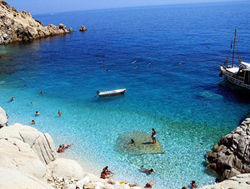 Although their religious beliefs varied, having a strong belief in God was another trait they had in common. This was especially true in the blue zone discovered in Loma Linda, California. Prior to this discovery the extent of the long and healthy lives these amazing people live was not well known to the general public. Loma Linda is the home of Loma Linda University and Adventists make up the majority of the population living there. In addition to being where the Adventist Medical School is located, the university graduates one of the highest percentages of registered dieticians and nutritionists in the world.
Interestingly Loma Linda appears to be maintaining their longevity better than the other blue zones in the study. Obesity has become a problem among the young in Okinawa and fast food has invaded Sardinia, so the faith based component appears to be a bigger factor than originally thought. The blue zones have had significant media coverage, including ABC News, World News Tonight and a National Geographic study... Dan Buettner wrote a book about the blue zones and if you're into longevity it is a must read.