WORLD RANKINGS-TOTAL DEATHS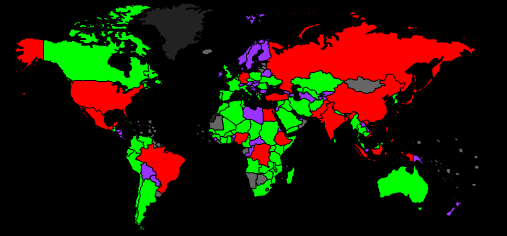 If you really want to understand GLOBAL HEALTH you have come to the right place. Here you will not only find the latest World Health Organization total death counts by country, you can compare countries to each other for over 80 Causes of Death. No crude rates or age standardization calculations to confuse you in this Data Grid, just total deaths and unless you know exactly what you're looking for this raw data is where everything begins. Final Deaths: 2017
INSTRUCTIONS:
1.

Cause of Death Column to the left is in World Rank Order.



2.

Click on country from the list on the right to place it into the Grid. This action will move it to the top of the list highlighted in yellow to make it easy to remove. You can place up to 7 countries into the Grid at one time. Click on individual country name to remove it from the Grid or the clear button to remove all.†Countries are listed in Life Expectancy rank order. Use the controls above the list to alphabetize or rank them to suit your purpose or to make your selection easier to find.

Click on any country to begin.





3.

Once the Countries are in the Grid you can change the Cause of Death Column from World Rank Order to† Individual Country order by clicking on the Abbreviation beneath the country Flag. Sorting the Data in this way enables you to compare one Country to another and against the World at the same time. Individual country Population numbers are across the top highlighted in orange to help you keep things in perspective.†Viewing the data vertically and horizontally delivers the maximum use of this tool.



4.

Entering a Country into the Grid will cause these instructions to disappear. If you want to review them again, simply clear the Grid or click on the Instructions Button at the top left and they will return.