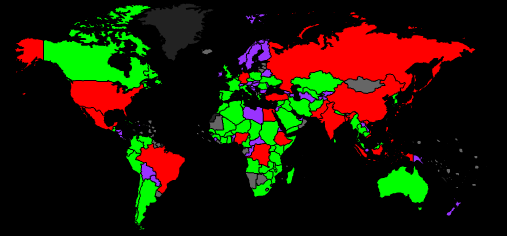 If you really want to understand GLOBAL HEALTH you have come to the right place. Here you will not only find the latest World Health Organization (2009 Estimates) of total death counts by country, you can compare countries to each other for over 80 Causes of Death. No crude rates or age standardization calculations to confuse you in this Data Grid, just total deaths and unless you know exactly what you're looking for this raw data is where everything begins.
HOW WORLD HEALTH DATA IS COMPILED
This very 'smart chart' is where most of our research begins, but before we teach you how to use it, it is important to understand this is 'World Data' and these numbers will not necessarily match what an individual country might publish. The reason the totals for an individual country may not be identical is because the primary purpose of this Data is to facilitate global comparisons, so the condition of the world's health can be measured and monitored. Many Sites that publish world data use multiple sources for their comparisons, with rare exception we do not. We don't believe accurate comparisons can be made from multiple sources or that contain data from different years. You would be surprised by how many countries don't report their health data every year and some haven't updated their counts for 5 years or more. On the one hand these inconsistencies can lead to inaccuracies, but as you will see in some respects world data is even more relevant than what you receive from any individual country.
WHO Data is more than just estimates it also includes projections and these projections are far more than "mathematical expedients." Official WHO data includes an in depth consultation with every member country before it is released and since virtually every country in the world is at least two years behind, 2009 WHO data is more current. The latest USA data for example is 2007 and that's because it takes that long to compile it. Likewise all WHO data complies with official ICD-10 standards and many countries have yet to complete that conversion. But there are a few categories that are slightly different such as Alzheimer's. WHO data combines Alzheimer's with Dementia which means you'll see a higher number than you're used to, but it also includes a 2009 forecast and Alzheimer's is on the rise. Most numbers are close for developed countries and remember without standard categories and methods cross national comparisons could not be made.
We are in the business of helping organizations and companies make complex data of all types easy to understand and use. Global Health is our cause, but not our primary business. We offer www.worldlifeexpectancy.com as a public service and enjoy sharing our expertise with the millions of people, Academic Institutions and Governments throughout the world who use it.This chart is our invention and all you have to do is follow the sequence below to have a world class tool you can access over and over again to keep you up to speed on global health.
INSTRUCTIONS: WORLD RANKINGS-TOTAL DEATHS
1.

Cause of Death Column to the left is in World Rank Order.



2.

Select a Country from the list on the right. Click on it to place it in the Grid. Once you click on a country it will move to the top of the list and will be highlighted in yellow as it enters the Grid. You can place up to 7 countries into the Grid at one time.



3.

Once the Country is in the Grid you can change the Cause of Death Column from the World Order to the Individual Country order by clicking on the Abbreviation beneath the country Flag. Sorting the Data in this way enables you to compare one Country to another and against the World at the same time. Individual country Population numbers are across the top highlighted in orange to help you keep things in perspective.



4.

To remove an Individual Country from the Grid, return to the Country List on the right and Click the country to remove it (one at a time). You can then replace it with another Country or click the orange "Clear" button located at the top of the List to remove all Countries at once.



5.

To assist you in finding Countries you may use the controls above the list to alphabetize them or rank them to suit your purpose.




6.

Click on any Country to begin....

Entering a Country into the Grid will cause these instructions to disappear. If you want to review them again, simply clear your Grid or click on the Instruction button above the cause of death column and they will return.